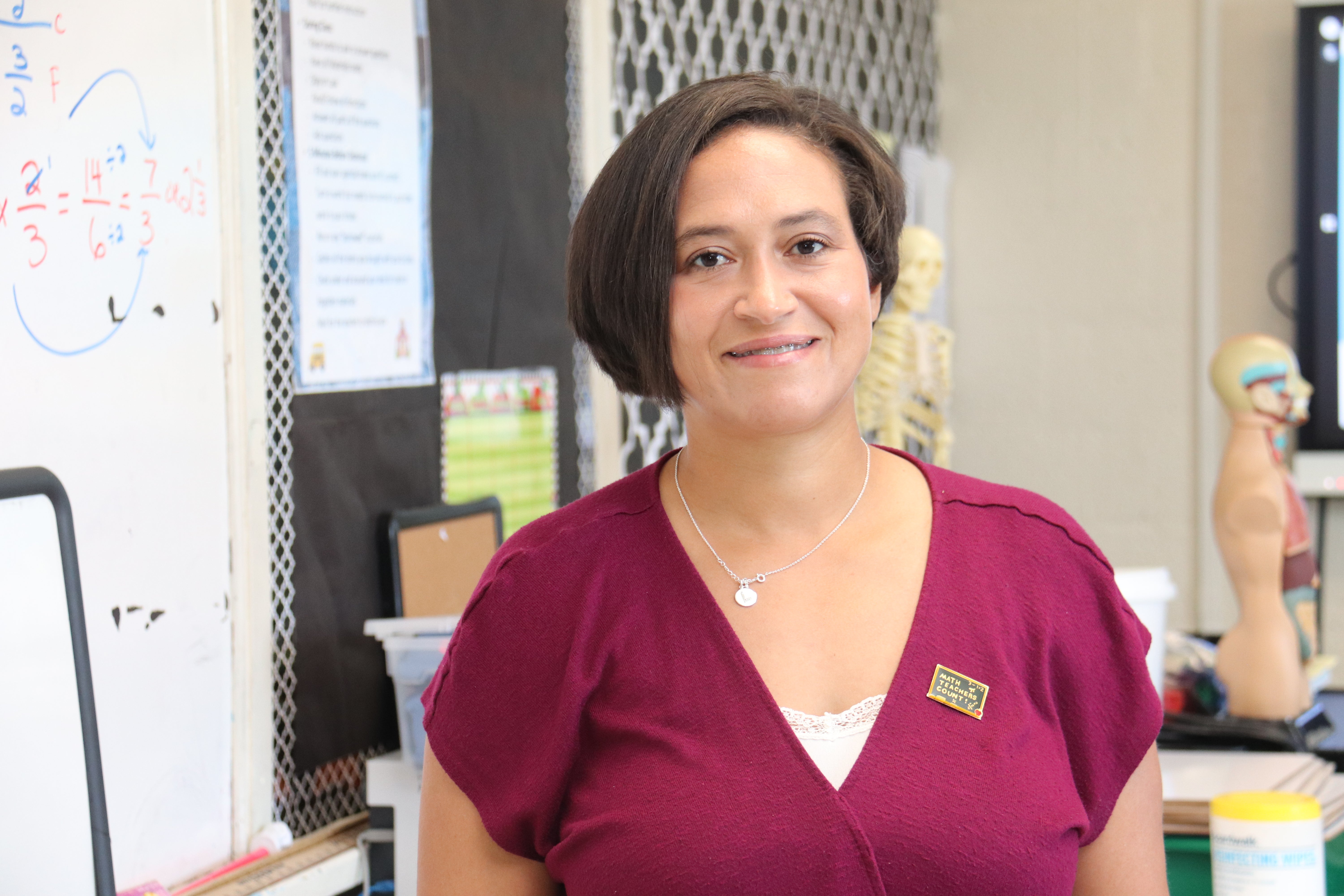 Some people work their entire life never having the opportunity to do what they are genuinely passionate about. Fortunately, that is not the story for Lakola Cook. Cook is an 8th grade math teacher at Magnolia Elementary School in Lumberton, NC entering her 20th year working in education.
At a very young age, Cook knew she wanted to become a teacher. "Being a daughter of a Teacher Assistant, I spent many afternoons waiting for my Mom to finish her workday." Some of her fondest memories are standing at the chalkboard pretending to teach while she waited. She will never forget when her Mom walked her down to her elementary school principal's office to tell him she wanted to be a teacher when she grew up. "I knew from that moment it would become real one day," she said. "My support system surrounded and pushed me to make my dream a reality."
Cook and her husband, Tommy, have been members of Lumbee River EMC since 2006. Earlier this year, Cook observed the Annual Engineering Week in February by inviting Matt Epps, an LREMC Operations Engineer, to speak to students virtually. "Hopefully, introducing the engineering field early to students will ignite a passion for knowing more about this career," Cook said. "I want students to think broadly about their career paths and the impact they could make locally as an Engineer."
As an educator, Cook wants to foster and grow students' potential. Cook believes her young students should begin thinking about how they will make long-lasting and positive impacts on their community. She encourages students to go beyond a high school diploma and plan for their future careers. "I do not want my students to feel limited because of where they live," she said. "There are opportunities to find success near their home."
Cook is a two-time "Teacher of the Year" at Magnolia Elementary and a First Americans' Educational Leadership Recipient.  She is an initial pilot teacher for the novel Operation Prevention program with Discovery Education called "The Good Medicine Bundle." The program incorporates opioid prevention in schools with indigenous students. Cook also serves on PSRC's Indian Education Parent Committee. In addition, she is the Children's Church Director of Saddletree Church of God, where she initiates the annual Operation Christmas Child program. Upon completing her MSA degree at UNCP in May 2022, Cook will be seeking coaching or administrative work. She is also working towards achieving National Board Certification.
Cook and her husband Tommy have been married 19 years and have an active family involved with church and sports. They have four beautiful and intelligent children. The two eldest daughters are in college at UNCP. One is a senior majoring in social studies education, and the other is a freshman majoring in nursing. They have a son that is a sophomore at St. Paul's High. Their youngest is son is six years old entering first grade at Magnolia Elementary.  
Cook's Mom is the reason she became a teacher. One of her greatest honors is sharing the responsibility with close family members in being caretakers of her Mom, who has Alzheimers. Cook and her family are active participants of the Robeson County Alzheimer's Association.