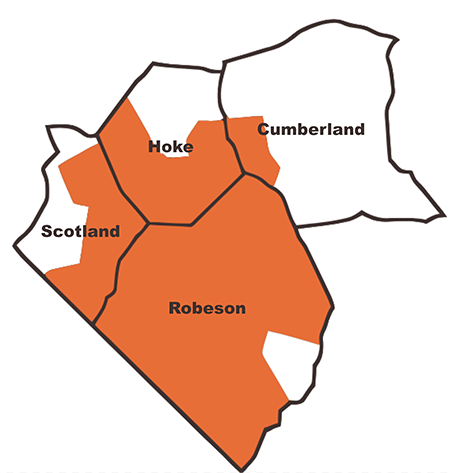 You Help Power a Community!
Lumbee River Electric Membership Corporation belongs to the members it serves. That means our members have a say in how our co-op is run. And with members in charge, you can feel confident that the decisions made are in your best interest and the best interest of your community. Doesn't that sound good?
Members know they can trust LREMC because it was created not to make profits, but to deliver on this promise: providing safe, reliable and affordable electricity. Four values are the foundation of LREMC's service to its members-innovation, commitment to community, accountability and integrity. These values represent the cooperative difference and how our co-op earns the trust of members, every day.
Our Member-Owners are a force of more than 50,000 in 4 eastern North Carolina Counties.
Benefits of Having A Membership
Reliable Electric Service

Capital Credits - money back at the end of the year!

Member-Only Programs and Events

Community Involvement

Energy Saving Tips & Rebate Programs

Safety Tips & Resources

Membership News
Members first. Every day. That's the power of co-op membership.
Plug in to the power of LREMC's Touchstone Energy Cooperative membership at www.TogetherWeSave.com.

Become a Member
Membership Fee, Security Deposit, and Connection Fees:
In order to secure electric service, a new member must pay a membership fee, pay an appropriate security deposit and connection fee. Every member is required to pay a $10 membership fee & sign a membership card. If the card is mailed to you, it is a requirement that the card is signed and returned within 10 business days by one of the following methods: email to support@lumbeeriver.com, mailed to PO Box 830, Red Springs, NC 28377 or dropped off at one of our five business offices. The membership fee is refundable upon termination of membership.
The security deposit you pay is dependent upon your credit rating & can range from $300 to 2X the average electric bill at the residence. The security deposit begins earning interest after 90 days & will be automatically credited to your account upon termination of membership or upon reaching 24 months of service with no incurred late fees.
The security deposit may be waived if a member has an acceptable credit rating or the following alternatives are in place prior to connection of electric service: Guarantor Contract/Co-Signer - The co-signer must be a member of the co-op in good standing for two years and sign a guarantor contract stating that he/she will be responsible for up to the amount of the deposit if the final bill is not paid in full; Army Waiver from Fort Bragg Housing.